The information hiding homepage
Gaspar Schott, Schola steganographica, 1665
If you want to use any of the pictures presented in this section, please mail me the URL of the picture you are interested in. High resolution images are available.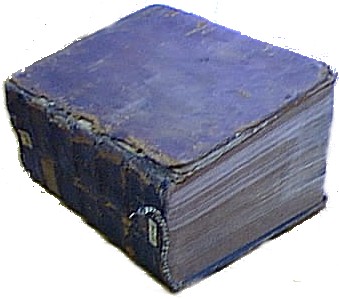 Main author: Schott, Gaspar, 1608-1666
Uniform title: Schola steganographica
Title: Gasparis Schotti ... Schola steganographica: in classes octo distributa, quibus ... explicantur artificia nova queis quilibet scribendo epistolam qualibet de re ... potest alteri absenti ... arcanum animi sui conceptum ... manifestare & scriptam ab aliis ... intelligere & interpretari ... Cum figuris æri incisis et Privilegio
Published: [Herbipoli] : Sumptibus Johannis Andreae Endteri & Wolfgangi Junioris Hæred. Excudebat Jobus Hertz Typographus Herbipol. Prostant Norimbergæ apud dictos Endteros, 1680.
Description: [38], 346, [4] p., [9] leaves of plates (partly folded) : ill. ; 20 cm. (4to).
Notes: T.p. in red and black. With an added t.p. engraved dated 1665, and with a plate of the coat of arms of Ferdinandus Maximilianus on verso of t.p.
With a two-page catalogue of works of Schott.
With an index.
Binding: full calf.
Bound with: Gasparis Schotti ... Technica curiosa ... [Herbipoli], 1687. Provenance: from the Whipple Collection (book-plate); ms. inscription on inside cover: 'H. L. N. April 13th 1876'.
The copy of Schola Steganographica held in the Whipple Science Museum, Cambridge, is bound with Technica curiosa, 1687, from the same author.
Omnes Steganographiae hoc Opusculo traditae, quae per numeros aut characteres quescunque perficiuntur, ingeniosae quidem sunt, ut nemo non videt, illae praefertim quae latentis secreti suspicione carenti; at non aeque omnes sunt faciles, & pleraeque non sine magnus temporis dispendio exhibentur cum finguli numeri, singuibique characteres, non nisi singulis Alphabetis litteris substituantur.
[from Epilogus & auctarium operis]
All of the secret writings handed down in this pamphlet (literally, 'little work"), those which are executed by means of numbers or by all kinds of characters, are truly ingenious, as all will agree; particularly [ingenious are] those which pertain to a hidden secret which goes undetected (literally – 'lacks suspicion"). But not all of them are equally straightforward and the majority of them are revealed not without a great investment of time taking each number and every single character one-by-one and only if they are substituted for individual letters of the alphabet.
[english translation by E.J.M. Greenwood, Newnham College, Cambridge]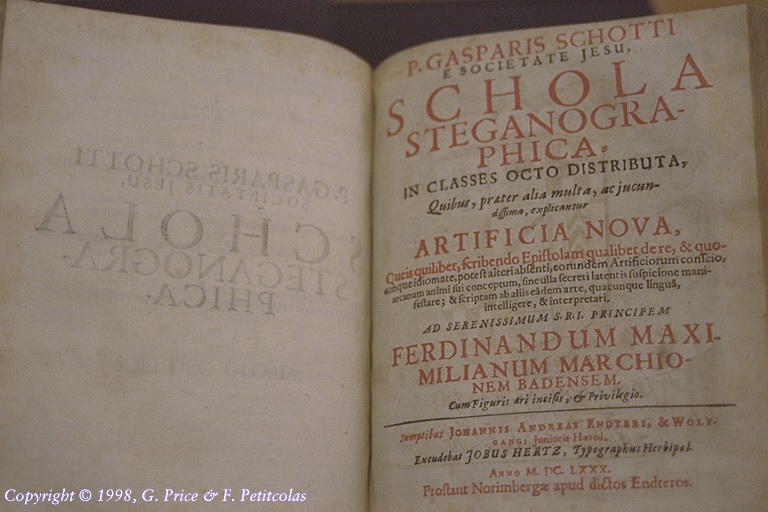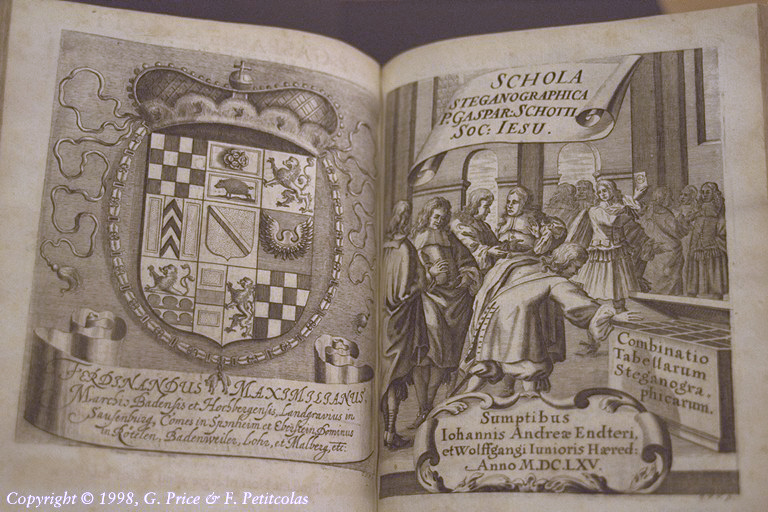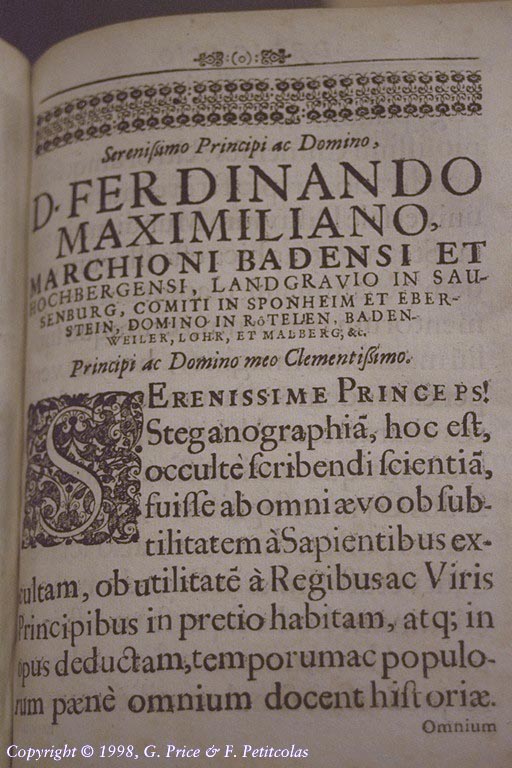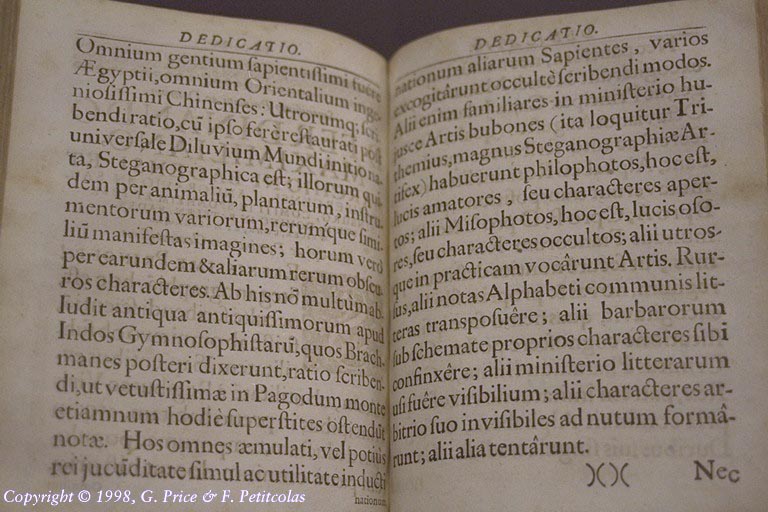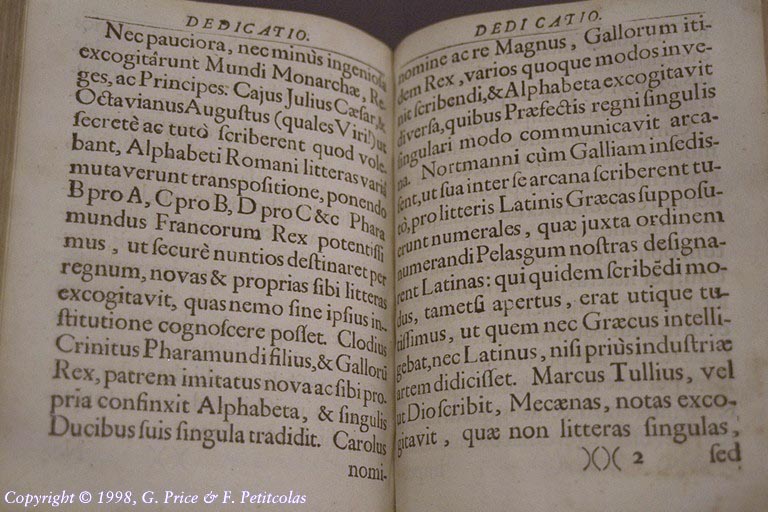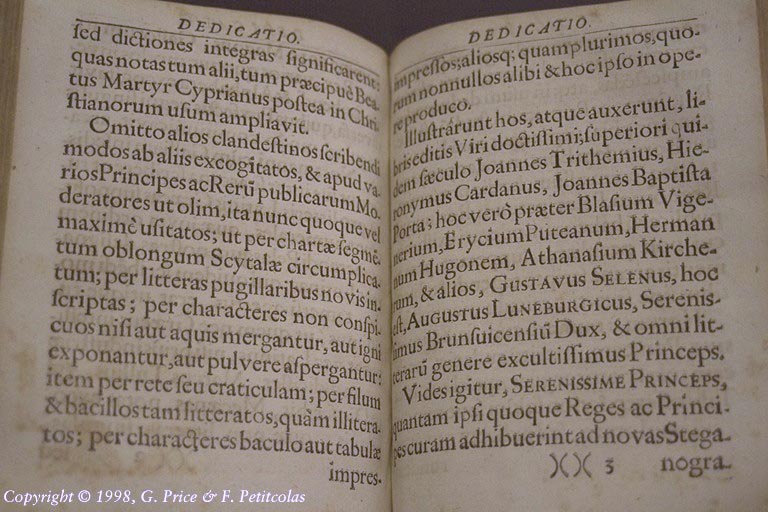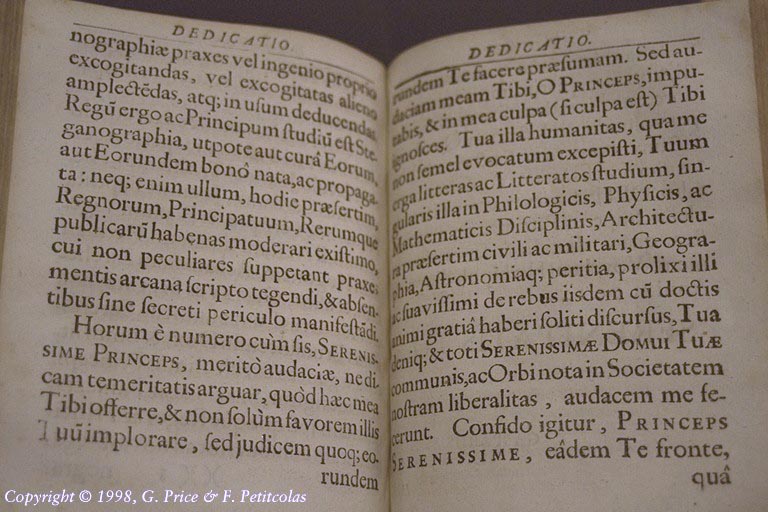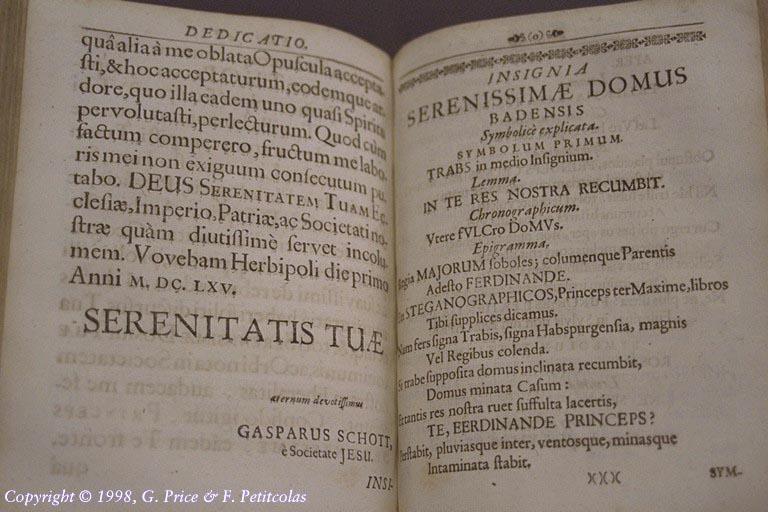 This first chapter explains Trithemius' tables. The next page explains the method and then an example is given. For your amusement, Mike Roe, has taken Trithemius' description of the 'macariel' code and turned it into a C program For a description of this code see, for instance: 'Renaissance Curiosa', Wayne Shumaker,Medieval & renaissance texts & studies. Binghamton, New York, U.S.A., 1982. ISBN 0-86698-014-8.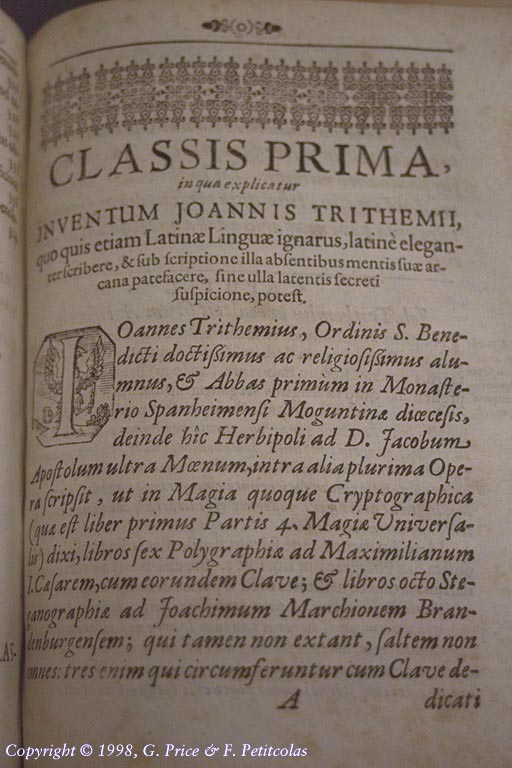 Trithemius' table
A
Deus
clemens
creans
coelos,
B
Creator
clementissimus
regens
coelestia,
C
Conditor
pius
confevans
suspercoelestia
...
...
...
...
...
X
Princieps
...
...
...
Y
Pastor
...
...
stellas,
Z
Moderator
magnificus
salvificans
vitam,
W
Sabato
excellentissimus
faciens
viventia,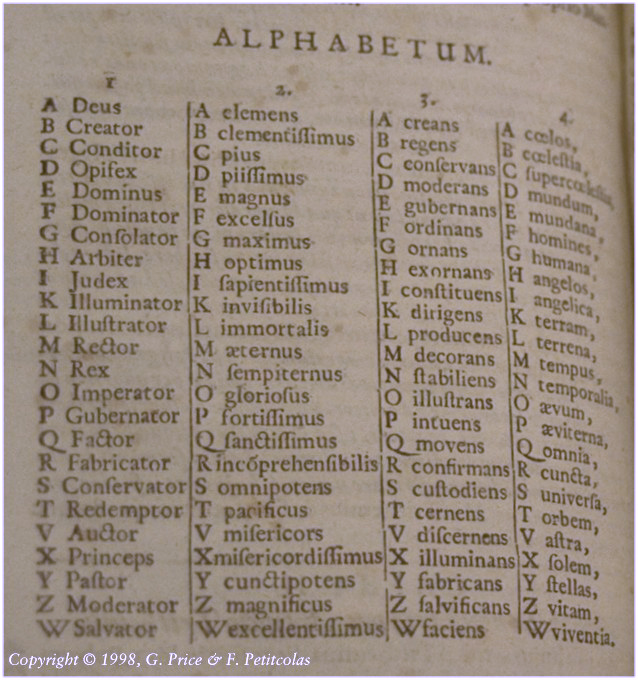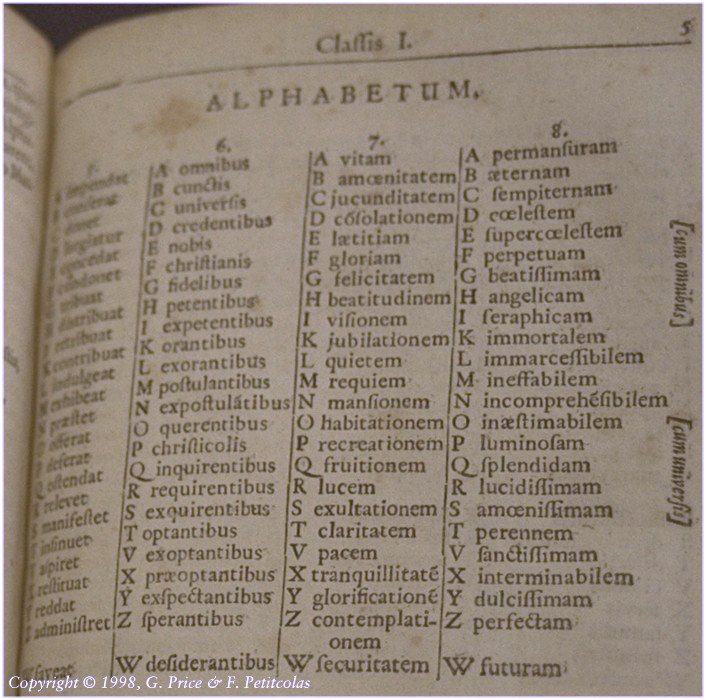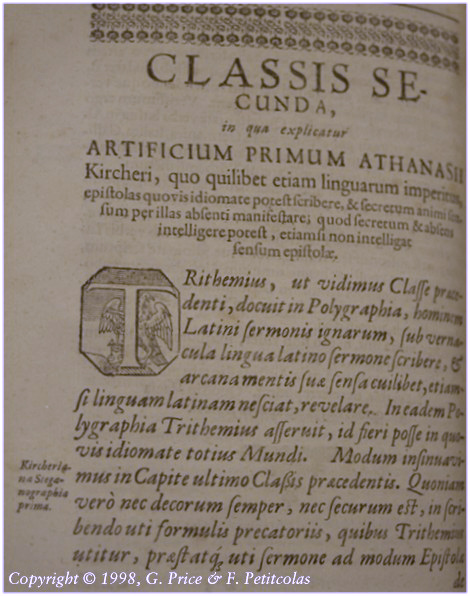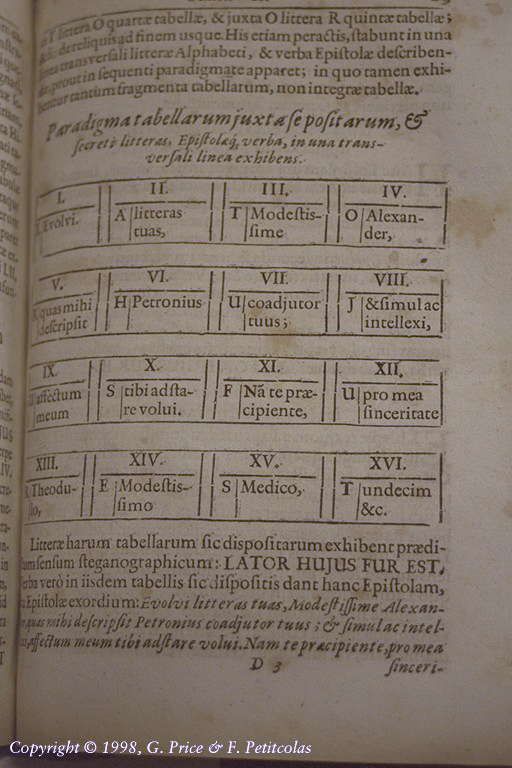 Trithemius' method with forty other tables. Each table has 24 entries in four languages. Each word or group of words in a line is the ciphertext of a plainletter.
| | | | | |
| --- | --- | --- | --- | --- |
| I | Latina | Germanica | Italica | Gallica |
| A | Accepi | Ich hab empfangen | Ho vicevuto | I'ay reçeu |
| B | Percepi | Ich hab betommen | Ho pigliato | I'ay parçeu |
| ... | ... | ... | ... | ... |
| W | Legi | Ich hab gelessen | Ho letto | I'ay entendu |
| | | | | |
| --- | --- | --- | --- | --- |
| II | Latina | Germanica | Italica | Gallica |
| A | Literatuas | Deine Brief | Le vostre lettere | Vostres lettres |
| B | Syngrapham tuam | Deine Unterschreibung | Il vostro biglietto | Vostre billet |
| ... | ... | ... | ... | ... |
| Z | Libellum tuam | Dein Büchlein | Il vostro librettino | Vostre petit livre |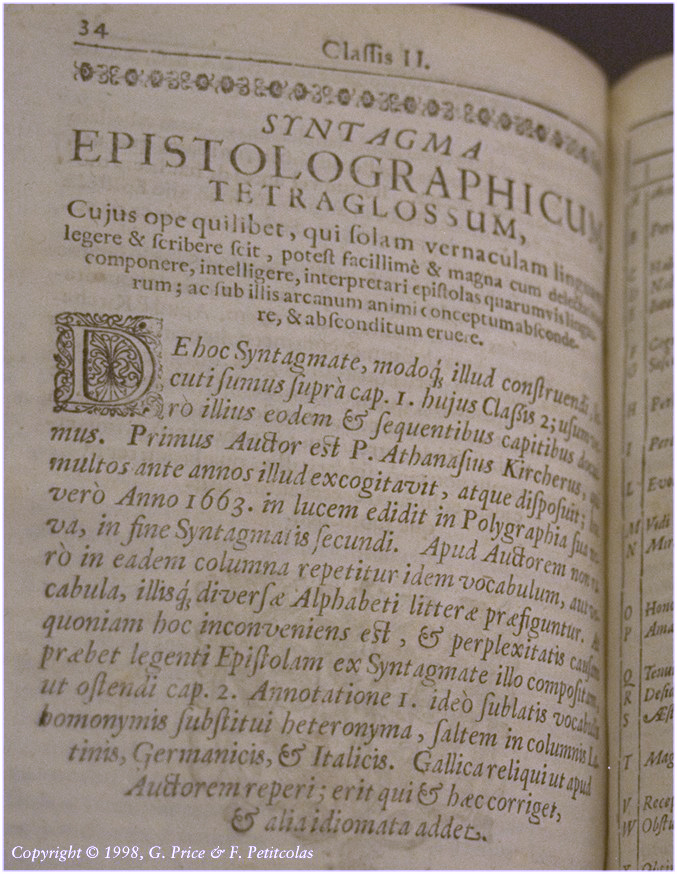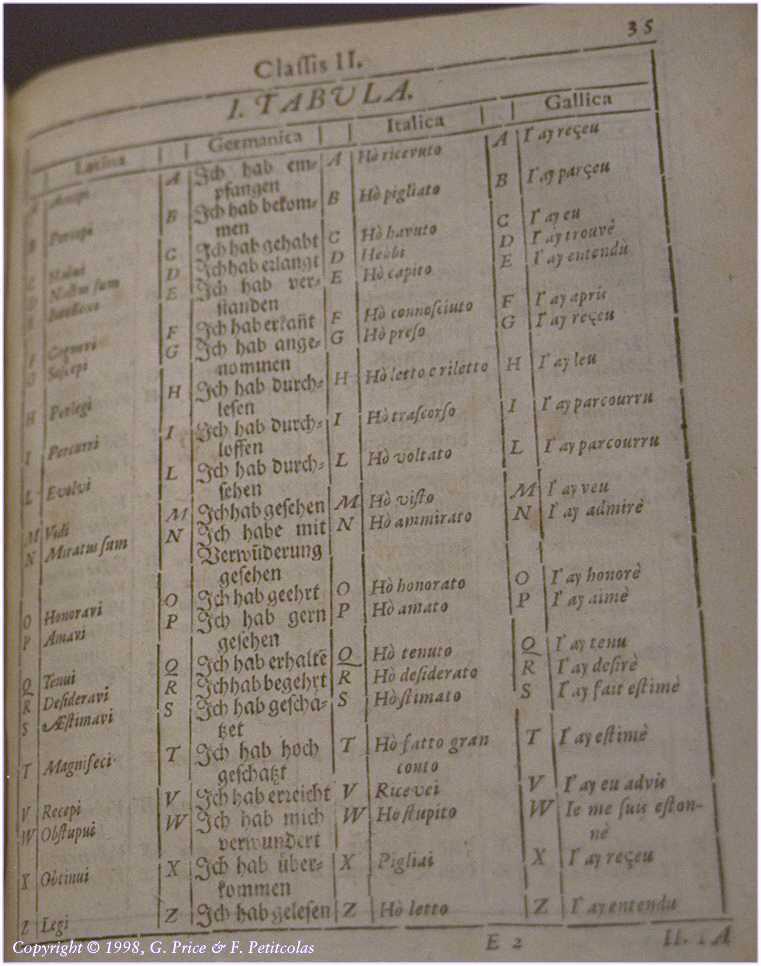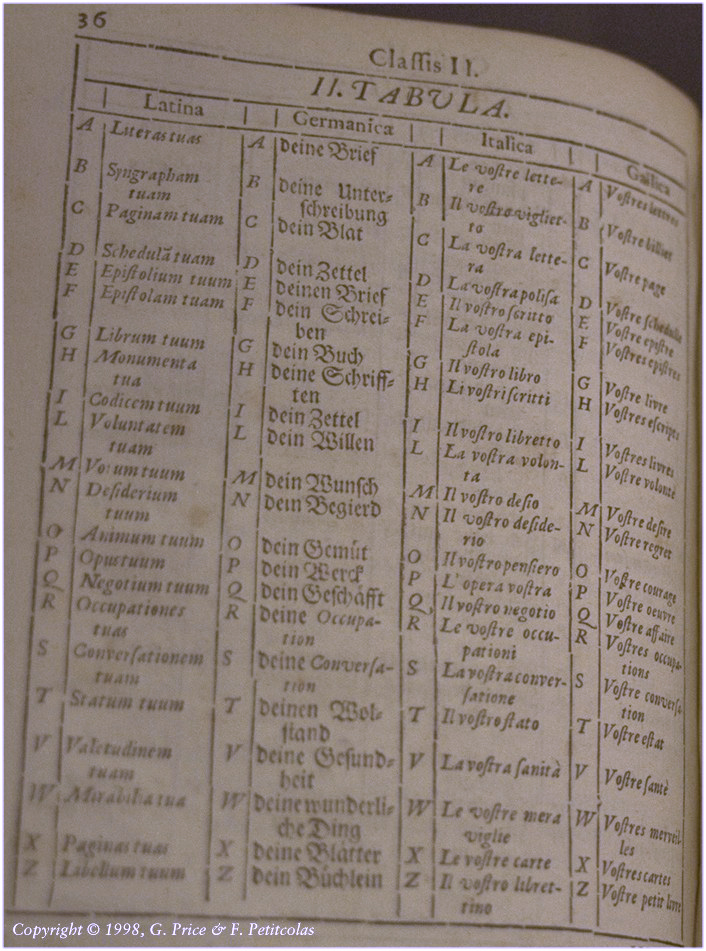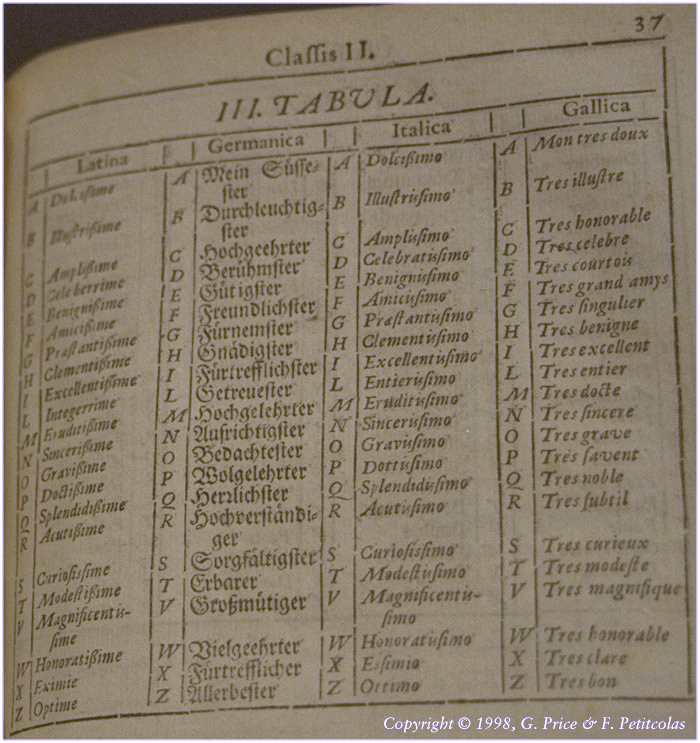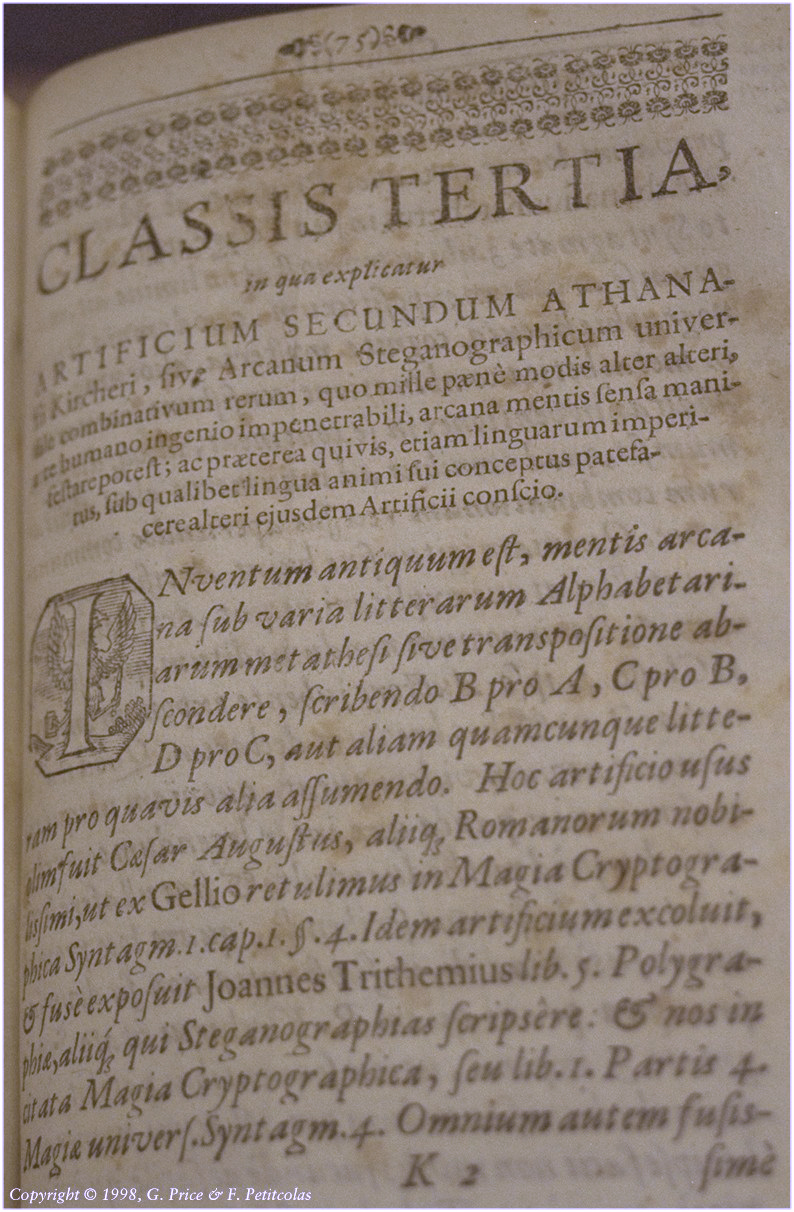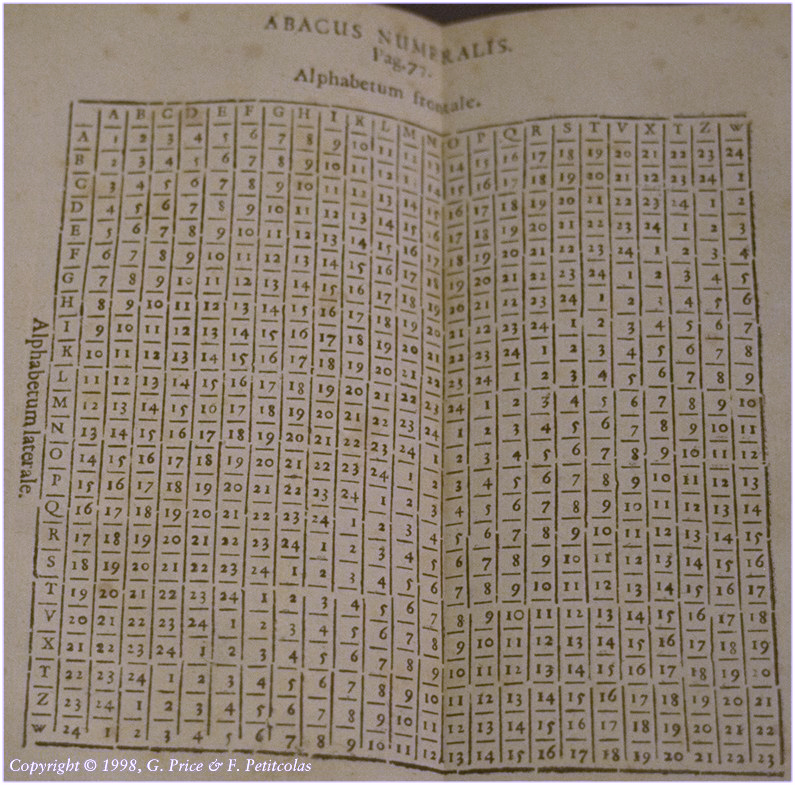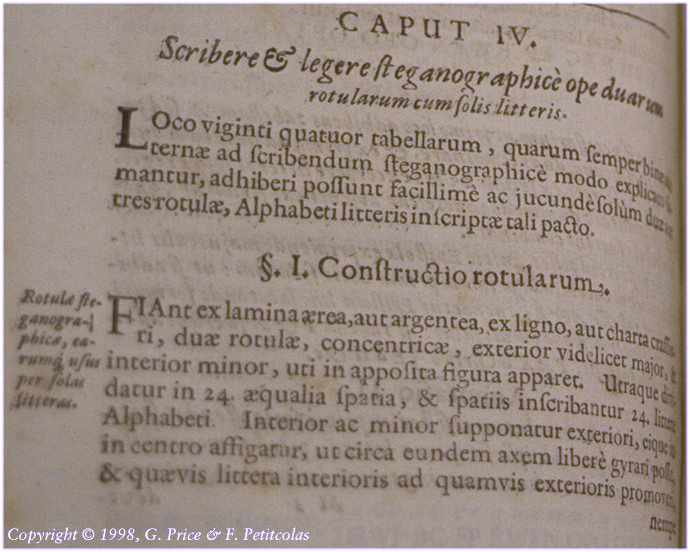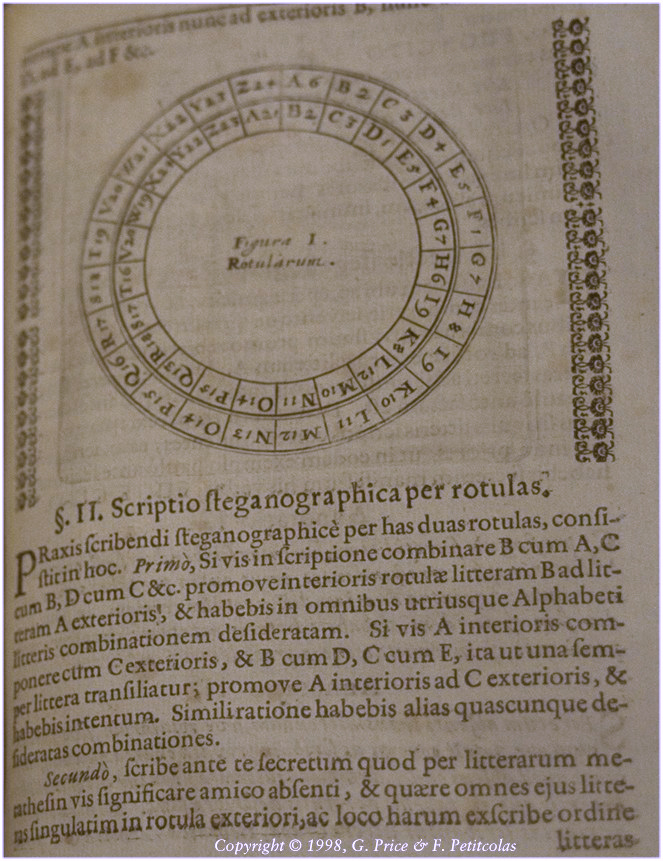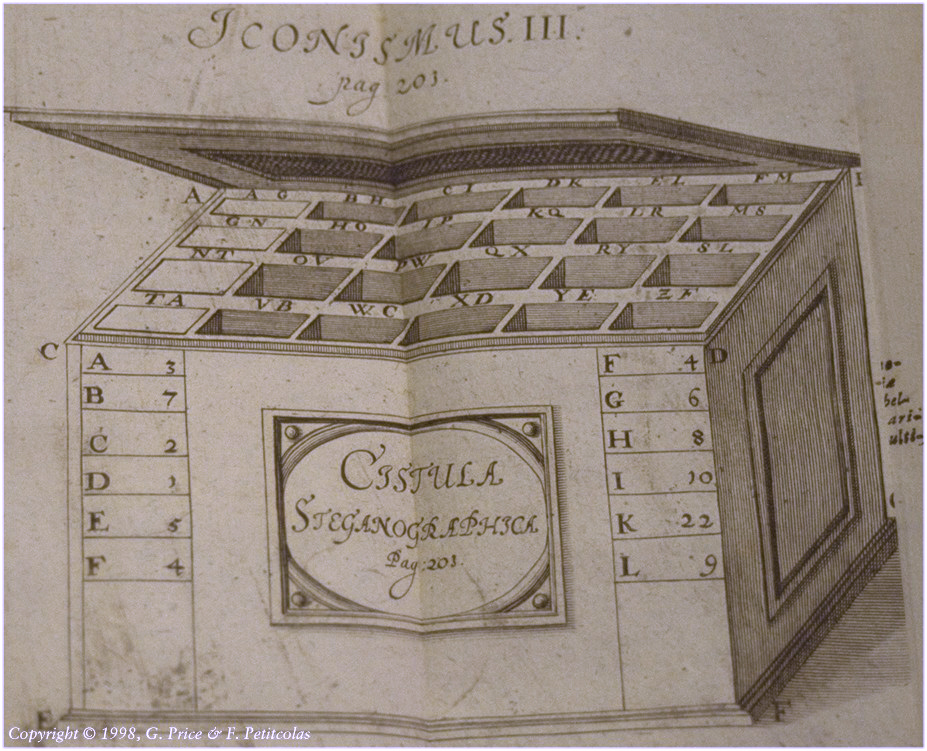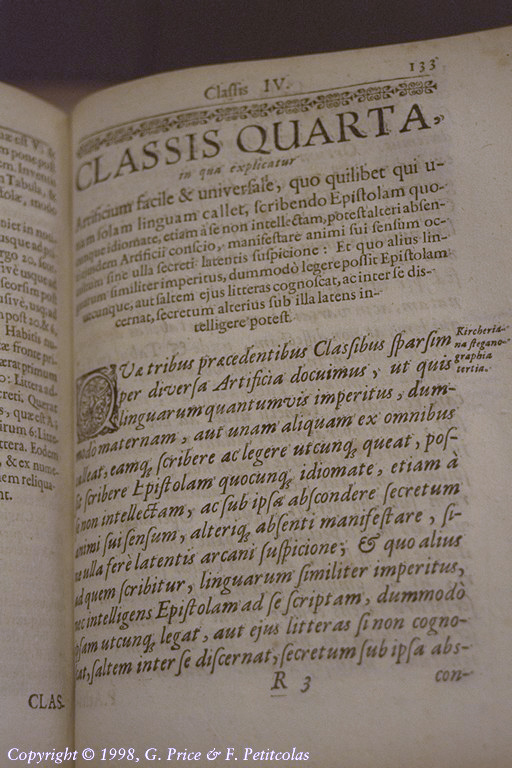 Paradoxum de innumerabili fere numero combinatiorum quibus viginti quatuor numeri cum viginti quatuor litteris Alphabeti possunt combinari: 620448401743239439360000. Est praedictus numerus combinatiorum tam magnus ut mille milliones scriptorum, milleannorum millionibus non possint omnes scribere, tamtsi singuli quotidie absolverent 40 paginas, quarum una quaeque contineret 40 diversos ordines viginti quatuor litterum. Nam si unus scripto uno die scriberet 40 paginas, quarum fingulae continerent 40 ordines diversos viginti quatuor litterarum; ergo uno die scriberet ordines 1600 quia 40 ducta in 40, producunt 1600. Ergo si demus anno dies 366 scriberet unus scripta uno anno ordines 585600. Ergo annis 1000000000, hoc est, mille millionibus annorum scribet unus scriptor 585600000000000 diversos ordines, seu diversas permutationes, hic enim numero critur [...] Scriptorum mille milliones codem tempore, videlicet mille annorum millionibus, scriberent mutationies diversas 585600000000000000000000.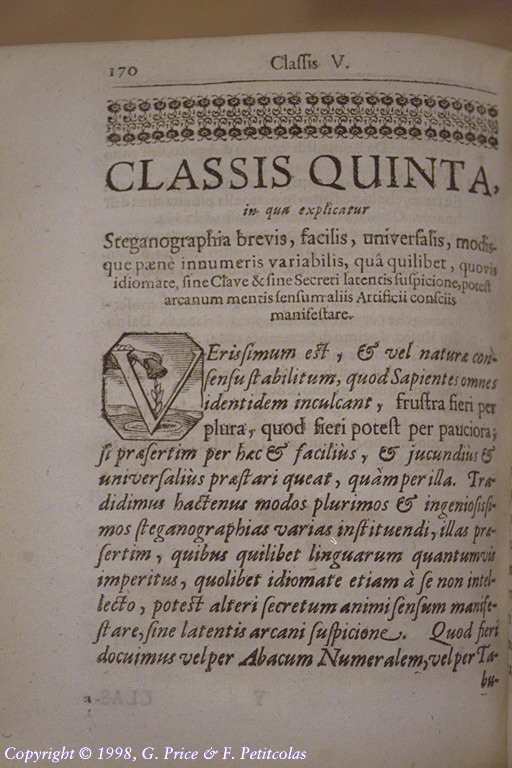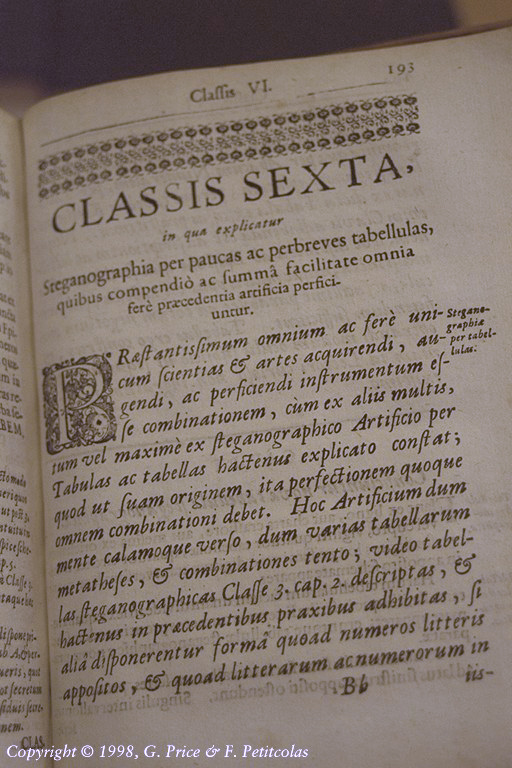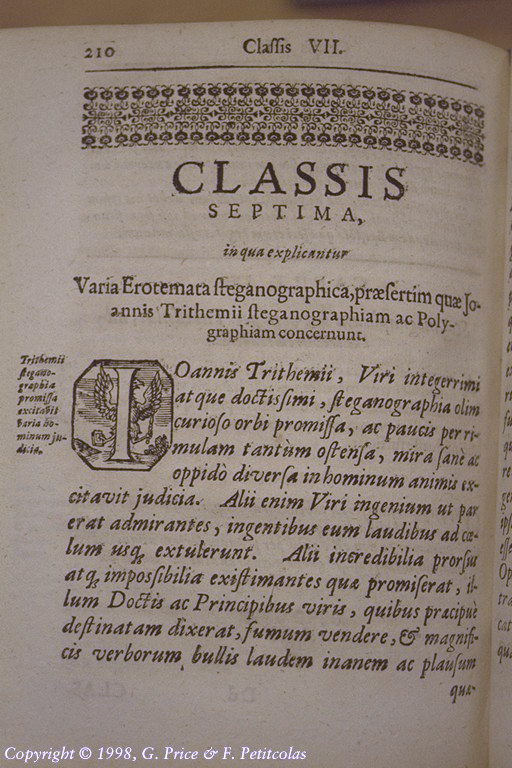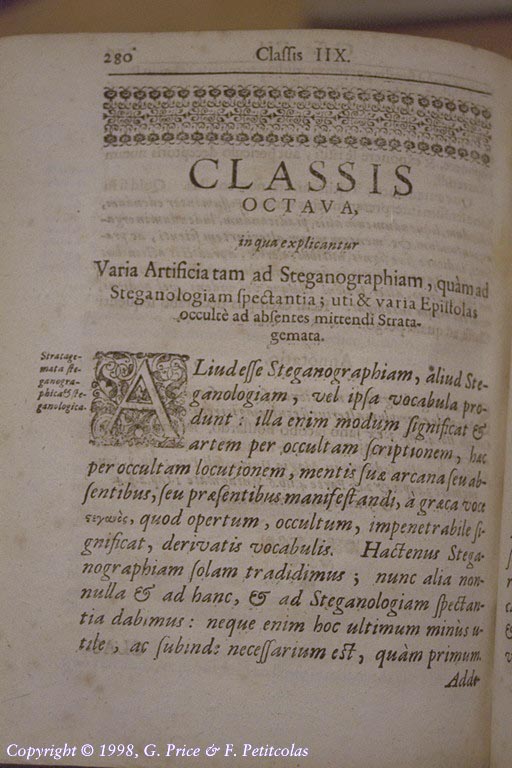 Hoc etiam artificium promisit Trithemius, ut supra ridimus. Fieri potest intercantandum, & ludendum non solum in argano, sed in quovisalio instrumento. Modis variis institui potest praxis, prout magis cuilibet lutita est. Placet hic subjicere modum quem tradit Hercules ?Sunde, qui in eo consistit, ut certae notae musicae, certis sedibus in pentagramo musico collocatae, substituantur pro certis Alphabeti seu Latini, seu Germani litteris. Ex quo fit, ut qui audit notas aliquas, seu voce, seu organo expressas, flatim ex notis veniat in cognitionem litterarum per illas significatarum, & ex literris in cognitionem vocabulorum quae secretum significant. In sequentischemate notarum quantitates acsedes, significant litteras directe infra subjectas.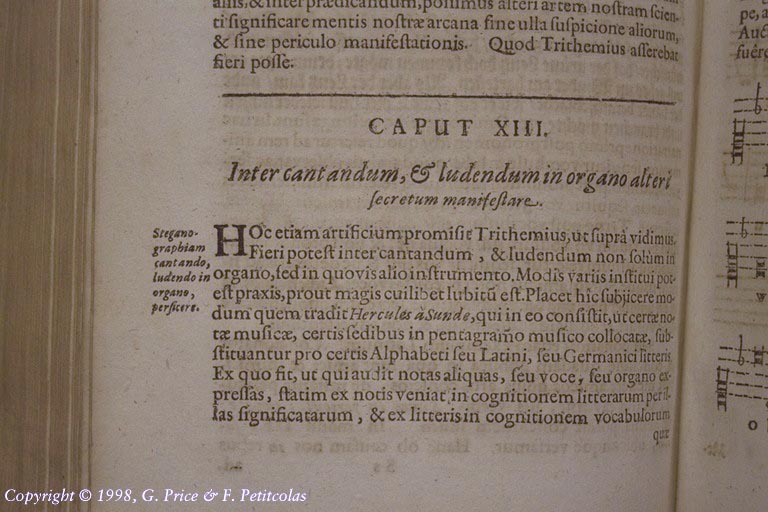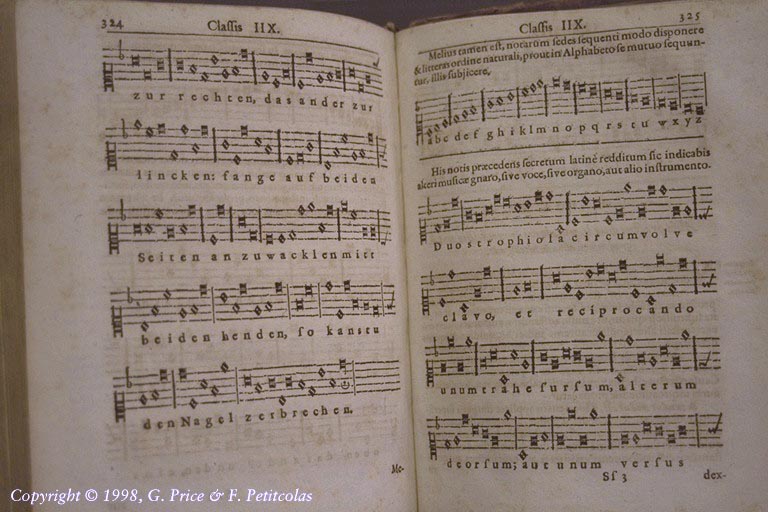 A full scan of this book is now avaible here.